April 30, 2022 from 5:00-9:00 pm at a private venue
Go here for more information and to order tickets
---
Amazon Smile
Support LCP while you shop at Amazon, using the Amazon Smile program.
You can also use Amazon Smile when shopping on the Amazon app. Download or update to the latest version of the Amazon Shopping app on your phone. You can find it in the App Store for iOS or Google Play for Android. Open the app and find 'Settings' in the main menu (☰). Tap on 'AmazonSmile' and follow the on-screen instructions to turn on AmazonSmile on your phone.
---
See's Candy
See's has gone digital! Instead of the standard order form and payments to LCP, all See's sales will happen directly on the See's Yumraising site. Just use our direct link for purchasing, choose your chocolates, and See's ships directly to you. A portion of the funds will make their way back to LCP! So easy!
Here is the link for purchasing: LCP See's Yumraising.
Please share this link with all of your friends, family, coworkers, neighbors, and social media friends! Our See's sale starts now and continues through December 10. Spread the word! Let's eat some chocolate and make some money for LCP!
---
Mandarin Fundraiser
LCP is partnering with Colwell Thundering Herd Ranch to sell mandarins and more! Colwell Thundering Herd Ranch is owned and operated by one of our LCP alumni families, the Colwells (parents to Katinka Chaddock and Nancy Masterson). In purchasing mandarins and other products through our fundraiser, you not only support LCP, but you also support a wonderful local family!
Visit our Order Form to make your purchases. Once we've received your order, we will email you an invoice with your total payment due to LCP. Our Mandarin Fundraiser starts now and continues through November 19. Orders will be delivered to the preschool and available for pickup starting the week of November 22. Spread the word! Colwell mandarins and products make great holiday gifts!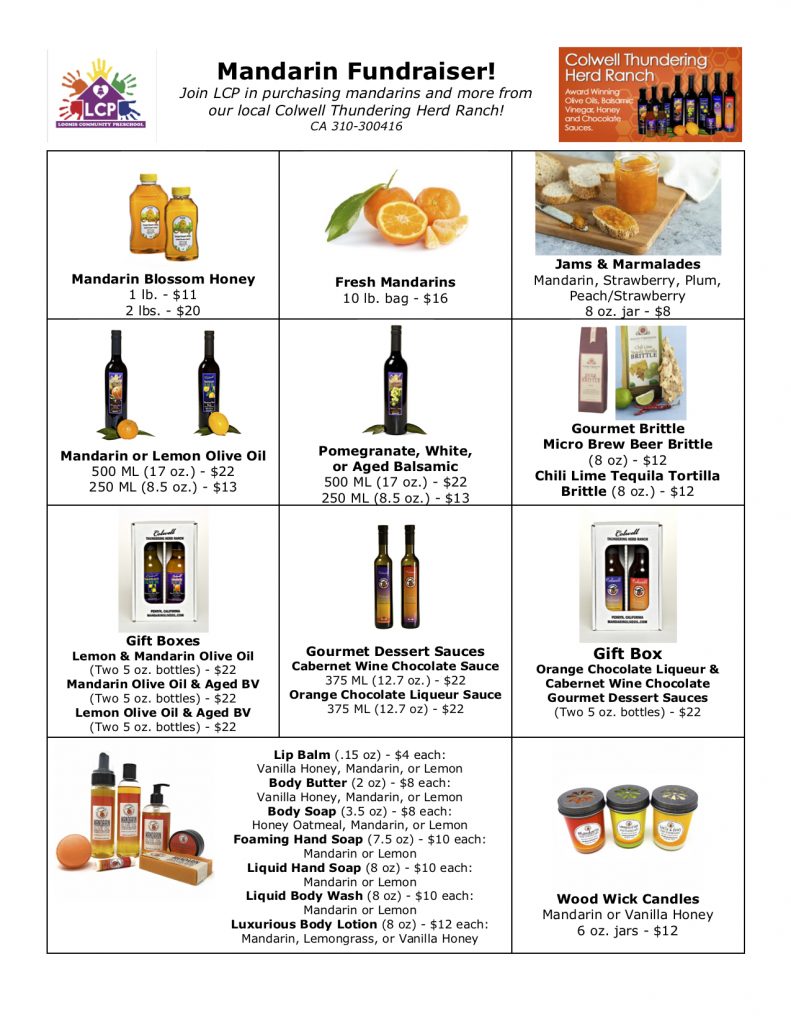 ---
Trike-a-Thon