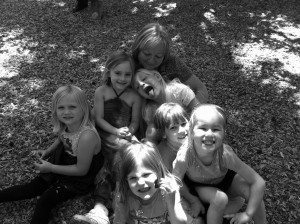 Teacher Sherry
Co-Director/2-Day Teacher
Sherry has been at LCP for more than 24 years. She joined the school with her daughter. She loved the school so much that she stayed as a volunteer and substitute, as well as went back to school and completed her credits in Early Childhood and Human Development so she could teach at the school. Sherry believes strongly in the co-op preschool and sees it as a precious time for the parents and children. Her oldest granddaughter attended LCP and now her youngest will start in the Tot class. Sherry has received the Teacher/Director Lifetime Achievement Award from the California Council of Parent Participation Nursery Schools.
---
Teacher Robannie
Co-Director
Robannie is honored to return for her 13th year at LCP and her 3rd year as a participating parent. This year she will be serving as co-director. Robannie grew up in Loomis, graduated from Del Oro High School, and earned her BA in English from Whitman College. She completed her Early Childhood Education coursework at Sierra College. Robannie is grateful to be part of a caring community of families dedicated to creating a nurturing, play-based environment for children.
---
Teacher Rebecca
3-Day Teacher
Rebecca has been with LCP for a full year now, and is totally loving it! She loves having the opportunity to work with family members and students, and to create the most creative and experiential learning environment. Rebecca has a degree in Applied Behavioral Analysis and Multicultural Bilingual Education. Having been a long time resident of Loomis, she is deeply invested in and connected to our community. This year she will be teaching the 3/4 Day class. She is so looking forward to working with all the families joining LCP again this year, and meeting all the new families.
---
Teacher Kellie
Tot Class Teacher
Kellie is very excited about her first-year teaching at LCP. She fell in love with the play-based environment when her daughter attended LCP last year. She completed her Associate Teacher certificate at Modesto Junior College and is currently working towards her AA in Early Childhood Education at Sierra College. She lives in Rocklin with her husband and two children, Jack and Kate. The thing Kellie loves most about being a part of LCP is the supportive and encouraging community of families.